Sale!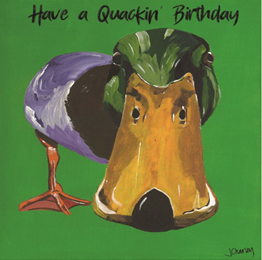 Quackin' Birthday
150 x 150 mm
£1.49
The greeting inside reads:
HAPPY BIRTHDAY!
About the Artist
I'm a self-taught artist whose work is strongly influenced by the wildlife and landscapes of the beautiful Scottish Borders I live in. I work predominantly with acrylics on canvas and love the sense of immediacy and vibrant colours these produce.
I believe there's beauty to be found even in the mundane aspects of our lives and try to reflect that in some of the slightly quirky characters I create. I hope they make you smile.
In stock